Anguilla Beach Guide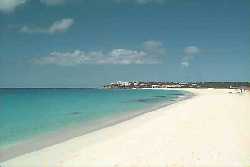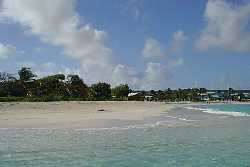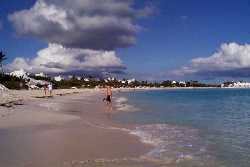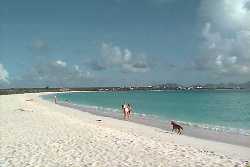 Barnes Bay | Blackgarden Bay | Blowing Point | Captains Bay | Cove Bay | Elsie Bay | Corito Bay | Crocus Bay | Dog Island | Dropsey Bay | Forest Bay | Island Harbour | Junks Hole | Katouche Bay | Limestone Bay | Little Bay | Little Harbour | Lockrum | Long Bay | Maundays Bay | Meads Bay | Merrywing Bay | Mimi Bay | Prickley Pear | Rendezvous Bay | Road Bay | Sandy Ground | Sandy Hill Bay | Sandy Island | Sandy Point Bay | Savannah Bay | Scilly Cay | Scrub Island | Sherricks Bay | Shoal Bay | Shoal Bay West | Sile Bay | Turtle Cove | West End Bay | Windward Point Beach
---
The Caribbean island of Anguilla has over 30 beaches to explore, not counting those on the offshore cays and islands. There are no clothing-optional beaches on Anguilla. In fact, topless bathing is also illegal. All beaches in Anguilla are public, but there are no lifeguards on duty. Be cautious swimming at remote beaches, especially if the surf is high.
Test your knowledge of Anguilla's Beaches
Identify this mystery beach or this one!
Pictures of specific beaches:
Leave Beaches.ai and Visit Other Web Sites
---
beaches.ai
And yet more on Anguilla
Copyright 1997-2013. News.ai